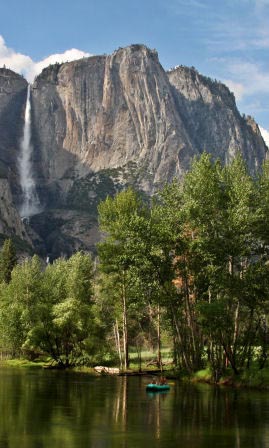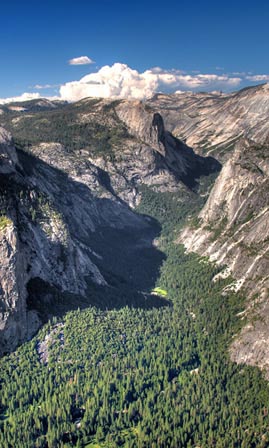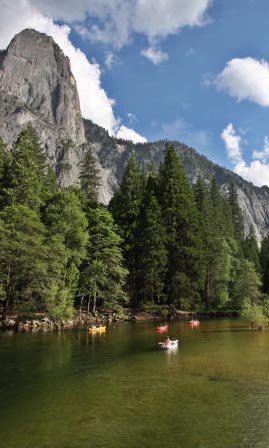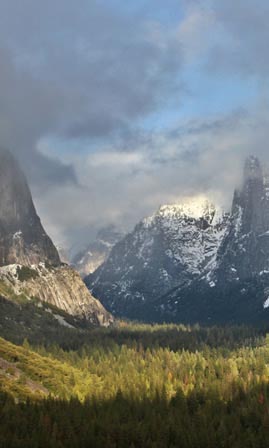 THE PERFECT DAY IN YOSEMITE NATIONAL PARK
The breathtaking valleys, giant sequoia trees and iconic domes in Yosemite National Park have captured the hearts and imaginations of visitors from around the world. While you can easily spend weeks exploring the myriad hiking trails, meadows and rivers of Yosemite, sometimes you only have a day or two to experience this one-of-a-kind marvel. With that in mind, the Holiday Inn Express & Suites Yosemite Pk Chowchilla has put together a must-see list of Yosemite attractions and highlights if you only have a single day to visit the park. And at the Holiday Inn Express & Suites Yosemite Pk Chowchilla, our Yosemite Park Hotel is your gateway to this unforgettable destination. We hope the following ideas will help make your visit to Yosemite a memorable one.
Please keep in mind that visiting Yosemite during the winter months presents different opportunities than visiting during the summer and it is advisable to visit the Yosemite National Park website to learn about any park alerts or conditions that may arise.
Directions to Yosemite National Park's South Entrance from our hotel: Merge onto Hwy 41 North and continue North for approximately 45 miles and you will arrive into the park, as Hwy 41 North leads directly into Yosemite National Park.
Enter Yosemite National Park from the South Entrance
TIME TO START YOUR DAY!
Stop 1:Mariposa Grove of Giant Sequoias
No visit to Yosemite is complete without visiting the famous Grove of Giant Sequoias. You can park your car in the Mariposa Grove Parking Lot. If this lot is full, you will be directed to Wawona to park and can take the FREE shuttle back to the Grove. While you are here, walk the .8 miles to see the Grizzly Giant (the largest tree in the park), then take a narrated tram tour through the Grove to the Upper Grove and Museum (Seasonal).
Stop 2: Wawona

The Wawona Hotel dates back to the 19th century and is also located just over the bridge from the Pioneer Yosemite History Center. This National Historic Landmark is one of the only lodges in Yosemite and also offers golfing on an Audubon Certified Sanctuary. From here, you can walk around the Meadow Loop or hike Chilnaualna Falls. Please keep in mind that this Yosemite hotel closes every year after Thanksgiving, reopens during the Christmas Holidays and then closes again until spring.
Stop 3: Glacier Point

Glacier Point boasts a commanding view of the Half Dome, and the High Sierra from 3,200 feet above Yosemite Valley. The road ends at Glacier Point and it is a short walk to the viewpoint. This area also showcases several hiking trails, including McGurk Meadow, Dewey point and the Sentinel Dome.
From mid-December through March the road is plowed only as far as the Badger Pass ski area and Glacier Point can be reached via skis or snowshoes only. Both downhill and cross-country skiing are available at Badger Pass from mid-December through March.
Stop 4: Tunnel View

From Glacier Point, turn right onto Wawona Road; continue down to Yosemite Valley. You will go through a tunnel one-mile long. Immediately after exiting the tunnel you will encounter stunning views of Bridalveil Fall, Half Dome, Clouds Rest, and the famous El Capitan.
To get a closer look at Bridal Fall, park along the roadside and walk 1.4 mile to the base of the fall. Unlike some of the waterfalls at Yosemite, Bridalveil flows year round.
Stop 5: Yosemite Chapel

Yosemite Chapel is the oldest building still in use in Yosemite Valley and also offers scenic views of Yosemite Falls, one of the tallest waterfalls in the world. Yosemite Falls usually flows between November and July. During the winter months, look for the ice cone at the base of the upper fall.
Stop 6: Sentinel Bridge

From the Yosemite Chapel, continue to Sentinel Bridge (the 1st stop sign that you will come to in Yosemite Valley). Turn left over Sentinel Bridge and park at Shuttle Stop 11. From here, you can walk to the bridge and see views of Half Dome over the Merced River.
Stop 7: Day Parking to get the Valley Shuttle
One of the best ways to experience Yosemite National Park is to take advantage of the Free Valley Shuttle, which runs every 10 to 20 minutes between 7AM and 10PM. This fantastic shuttle will transport you to all of the major spots in the Valley. To get to the parking lot, continue from Sentinel Bridge to the next stop sign, turn right and follow signs to the Day Parking area. Leave your car here for the rest of your visit to the Yosemite Valley. This parking lot is also referred to as Shuttle Stop 1 (Day Use Parking).
Valley Shuttle Highlights:
Shuttle Stop 6 - Yosemite Falls
From this stop you can walk the ½ mile walk to base of Yosemite Falls, tallest waterfall in North America at 2,425 feet. Shuttle Stop 5/9 – Valley Visitor Center This stop is the Yosemite Valley Visitor Center. Here, you can watch "Spirit of Yosemite" film, explore the Ansel Adams Gallery and the Yosemite Museum
Shuttle Stop 8 - Yosemite Lodge at the Falls
If you are planning on participating in the Valley/Glacier Point tours, they depart from here. For information and reservations for these tours please contact: (209) 372-4386. Please note some tours are seasonal.
Shuttle Stop 16 - Happy Isles
The Nature Center at Happy Isles is a family-friendly destination with interactive displays and exhibits about the park's wildlife. Nearby are short trails that focus on the area's four different environments: forest, river, talus, and fen. Entrance is free and open daily from 9AM to 5PM. From here, you can also hike to the Vernal Falls Footbridge or Nevada Falls.
Shuttle Stop 17 - Mirror Lake
Mirror Lake is famous for its dazzling reflections of the Hald Dome and Mount Watkins. From the shuttle stop, walk about one mile to get to Mirror Lake. Just remember, the lake is more like a pond than during the summer, so try to visit when the water levels are highest during the spring.
Stop 8: Valley View
Valley View offers an unforgettable panoramic vista of Yosemite Valley you won't want to miss. Located along one-way Northside Drive, it is best to stop at Valley View on your way out of Yosemite Valley. This scenic lookout is located just after a view of Bridalveil Fall but immediately before the Pohono Bridge.
Our Yosemite Park Guide is intended to help you plan out your day in the park while staying at our Holiday Inn Express & Suites Yosemite Pk Chowchilla.
Additional Tips for Visiting Yosemite National Park:

Download the Yosemite National Park App for your iPhone or Android:
This App provides information about Yosemite, provides an auto guide, shuttle bus information, hiking information and much more!